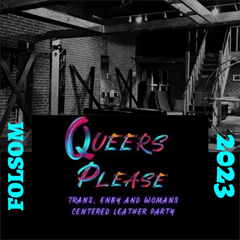 Join the Exiles for an evening of sensually charged demonstrations at Queers Please this Friday night, setting the mood for an unforgettable Folsom weekend! The Exiles are thrilled to bring you a selection of seductive leather aficionados ready to enthrall your senses at 8pm and 8:45pm. These titillating displays will feature Exiles members and their friends indulging in their most passionate forms of play, ranging from tantalizing sensation to wickedly enticing knife play.

At 8pm, indulge in an evening of exquisite intensity as Tomo & CJ delve into the erotic world of Pressure Points while Marilyn & Rio dance floggers against the enticing backdrop of the St. Andrew's Cross. Meanwhile, Ferris & Candy will leave you breathless as they navigate the fine line between pleasure and pain, melding sharp blades with sadistic massages on the tantalizing table.

As the clock nears 8:45pm, surrender to the seductive sensations brought to life by Jay, Kayla, & Jordon, their bodies sensually pressed against the St. Andrew's Cross. Noah & Elijah, in their mischievous play, will have you giggling with delight as they explore the electric shocks of the Violet Wand. And brace yourself, for Jae & Leda are concocting something so delightfully sinful you'll have to wait in anticipation to witness their wicked creation.

While you're immersed in the erotic atmosphere, don't forget to explore the talents of our enchanting bootblacks, Momo and Innocent.

Hosted by Kane, this unforgettable evening awaits you on Friday, September 22nd. Tickets are already sold out, and the anticipation is electric!

Feel free to share your pre or post-scene Play Party snapshots – it's your choice. You might find your seductive moments featured in the next tantalizing edition of Lunatic Fringe.