Friday May 15, 2020 | 7:30 pm - 10:30 pm
Whether you're a dominant or a submissive, creating, implementing, and enforcing protocol in D/s dynamics is freakin' hard. But it can be easier. Come create your own Protocol Game and create, implement, and enforce 52 protocols in the next year. In this workshop, you'll learn: how to create a "training wheel" of categories that will drive your protocol, how to implement new protocol so it actually sticks, and how to enforce new protocol with the minimum of effort. And you'll walk away with your own Protocol Game to play—it can be done in partnership or solo, by dominants, submissives, or anyone in between.
Note our second program at Mission Control in OAKLAND! Hope to see you at this great space.
To volunteer for this event, fill out the Volunteer Signup Form.
About our Presenters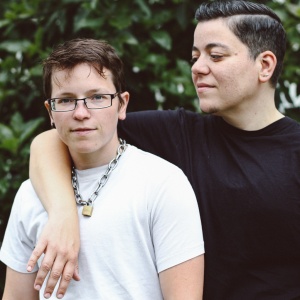 Master Rook (they/them) and slave rook (he/they) are the 2019 Northwest Master and slave. They are white genderqueer leather dykes who met in 2011 when they were both presenting at a kink conference. They fell in lust at first touch and have been theorizing on power dynamics together ever since. Both Master and slave constantly seek out mean, creative ways to deepen their dynamic, and consider M/s a spiritual journey to their most authentic selves. They love sharing what they've learned and have taught at over 50 M/s, leather, and lifestyle events, and co-founded D/s Playground at dsplayground.com. slave rook is the co-creator and illustrator of The GENDER Book and Kinkopoly; Master Rook has written thousands of dirty words for anthologies, columns, and their own site, sugarbutch.net.
Location: Mission Control